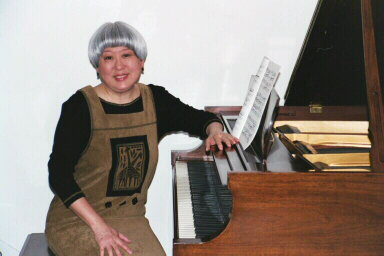 Prior to moving to Verde Valley in 2007, Judy Torigoe lived in Chicago where she was a long-time resident of Andersonville, a diverse and exciting neighborhood on the city's far North side. She began her piano studies at the age of 10 and majored in Piano Performance at Roosevelt University in Chicago where she studied with the well-known and highly-respected pianist, composer, conductor and pedagogue, Dr. Rudolph Ganz. Her college education was interrupted, but she returned to college as an adult, was awarded a full music scholarship and graduated Magna Cum Laude in 1994 with a B.A. in Piano Performance from Northeastern Illinois University.
Ms. Torigoe is a member of the Music Teachers National Association (MTNA), the Arizona State Music Teachers Association (ASMTA) and the Northern Arizona Music Teachers Association (NAMTA). She earned the designation of Nationally Certified Teacher of Music in 1996, was granted renewal in 2001 & 2006 and in 2011 became a Permanent Professional Certified Teacher of Music in Piano. She is the area's facilitator for Recreational Music Making (RMM) and in April of 2009, was awarded the MTNA Piano Technicians Guild (PTG) RMM Workshop Scholarship, which provides advanced study opportunities in RMM.
Among her contributions to the performing arts is her role as a workshop facilitator for the Osher Lifelong Learning Institute (OLLI). Her popular workshops are entitled "The Ultimate Crash Course in Music Education" and "Classical Music for People Who Hate Classical Music".
Ms. Torigoe's private students have ranged in age from 7 to 70+. Several of them have earned high honors, including gold medals, in competitions, festivals and other performance-based events.
What does "Certified Teacher of Music" mean?
"Certification is a process that validates an individual's qualifications for a specific field or professional practice. It demonstrates to employers, clients and peers that which the individual knows and is able to do. It signifies commitment to continued excellence in professional practice. In addition, it increases visibility, builds credibility, provides a goal for personal professional achievement and validates expertise for the individual and to those outside the field."
Visit www.MTNA.org for more information.